BACK
Smile Complete™ Full-Arch Restoration
Bringing Functionality and Confidence to Your Smile
Having few or no healthy, functioning teeth can drastically affect your quality of life. At Pacific Northwest Oral & Maxillofacial Surgeons, our team understands how transformative a new smile can be, and we will design a solution to restore your oral health and smile.
We offer a revolutionary procedure that allows our surgeons to replace an entire arch of teeth using several strategically placed dental implants. Smile Complete™ full-arch restoration provides a brand new set of teeth that look and function just like healthy, natural teeth.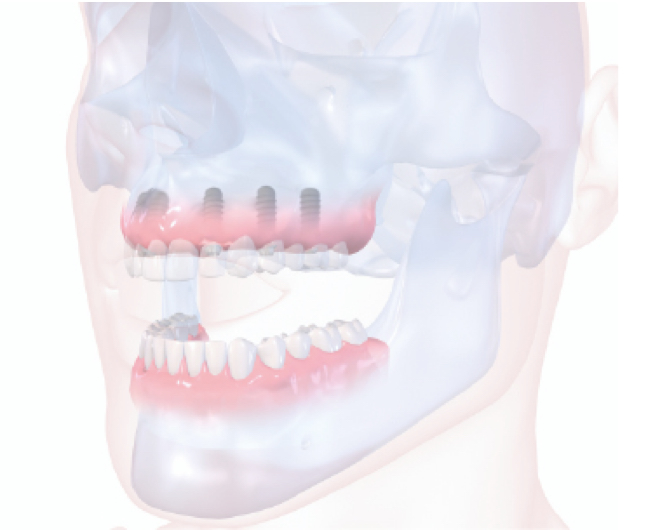 How Does Smile Complete Full-Arch Restoration Work?
At Pacific Northwest Oral & Maxillofacial Surgeons, we customize each Smile Complete full-arch restoration plan to serve your individual needs. One of our skilled and experienced surgeons will first perform a thorough oral exam and consultation, and take 3D scans as necessary to design your treatment plan. Our practice offers a variety of anesthesia and sedation options to ensure you are as comfortable as possible during any procedure.
At the start of the surgery, any teeth remaining in the arch will be extracted. The oral surgeon will place your dental implants using custom surgical guides. After the procedure is over, your temporary set of teeth will be placed, and you will be driven home by the responsible adult that accompanied you to the procedure. Once your implant sites have healed, your new set of teeth will be secured to the dental implants.
Am I a Candidate for Smile Complete Full-Arch Restoration?
If you need to replace many missing or failing teeth, Smile Complete full-arch restoration may be the solution for you. You may be a candidate for this tooth restoration procedure if:
Most or all of your upper or lower arch of teeth are missing or failing.
You wear removable dentures.
You are healthy enough to undergo most dental procedures, such as a tooth extraction.
You desire a long-lasting solution to tooth loss.
One of our experienced oral surgeons will assess your condition and form a treatment plan that addresses your oral health needs. We offer a variety of tooth replacement options, from dental implant-supported bridges to Smile Complete full-arch replacement and more. To schedule your consultation today, contact us in one of our convenient locations in Auburn, WA, Federal Way, WA, Renton, WA, Maple Valley, WA, or Puyallup, WA. One of our team members will be happy to answer any questions you have.
We believe we can provide the best possible care for our patients when we partner with those who are experts in their field and a patient's own general dentist to deliver what is known as "the team approach".
We create a customized experience allowing you to work with your existing dentist on your Smile Complete transformation, or we are happy to refer you to a well qualified general dentist who is experienced in delivering the restorative aspect of your Smile Complete treatment.
Your expert Smile Complete care team is made up of the following partners to provide you with the optimal smile transformation:

PNWOMS Surgical Specialist

General Dentist Restorative Specialist

Dental Laboratory Prosthesis Fabrication Specialist
Renew Your Confidence, Restore Your Health
See how life-changing full-arch restoration can be. Find out more about the Smile Complete™ full-arch restoration experience and how to get the healthy, beautiful smile you deserve.
Schedule Your Visit With Us